Get to know SAEP
The Climate Smart Agriculture and Rural Enterprise Programme (SAEP)is a six (6) year Programme (2018- 2024) funded by the International Fund for Agriculture Development (IFAD), Caribbean Development Bank (CDB) and the Government of Grenada. It is part of the Rural Development Unit of the Ministry of Finance.

The Climate Smart Agriculture and Rural Enterprise Programme is a programme focused on Assisting beneficiaries improve their livelihoods through skills training, investments in agriculture, teaching Climate Smart Practices and providing Business Skills Training and Technical services to Rural Enterprises in the rural communities throughout the state of Grenada.
How will it be provided?
Business Support, Entrepreneurial Skills Training and Financing will be offered through the Grenada Industrial Development Corporation (GIDC).
Vocational Skills Training for young people will be provided through the TA Marry Show Community College, NEWLO and Grenada National Training Agency in approved training centers island wide.
CSA awareness, extension support, training in Climate Change and Climate Smart Agriculture and financing for CSA initiatives will be facilitated through the Ministry of Agriculture and Lands, Ministry of Climate resilience and Ministry of Carriacou and Petite Martinique Affairs
Market Support Services to farmers through our Marketing Officer.
Contracting for the construction or rehabilitation of rural farm access roads and the rehabilitation of irrigation systems for farmers.
Enterprise Business Development (EBD)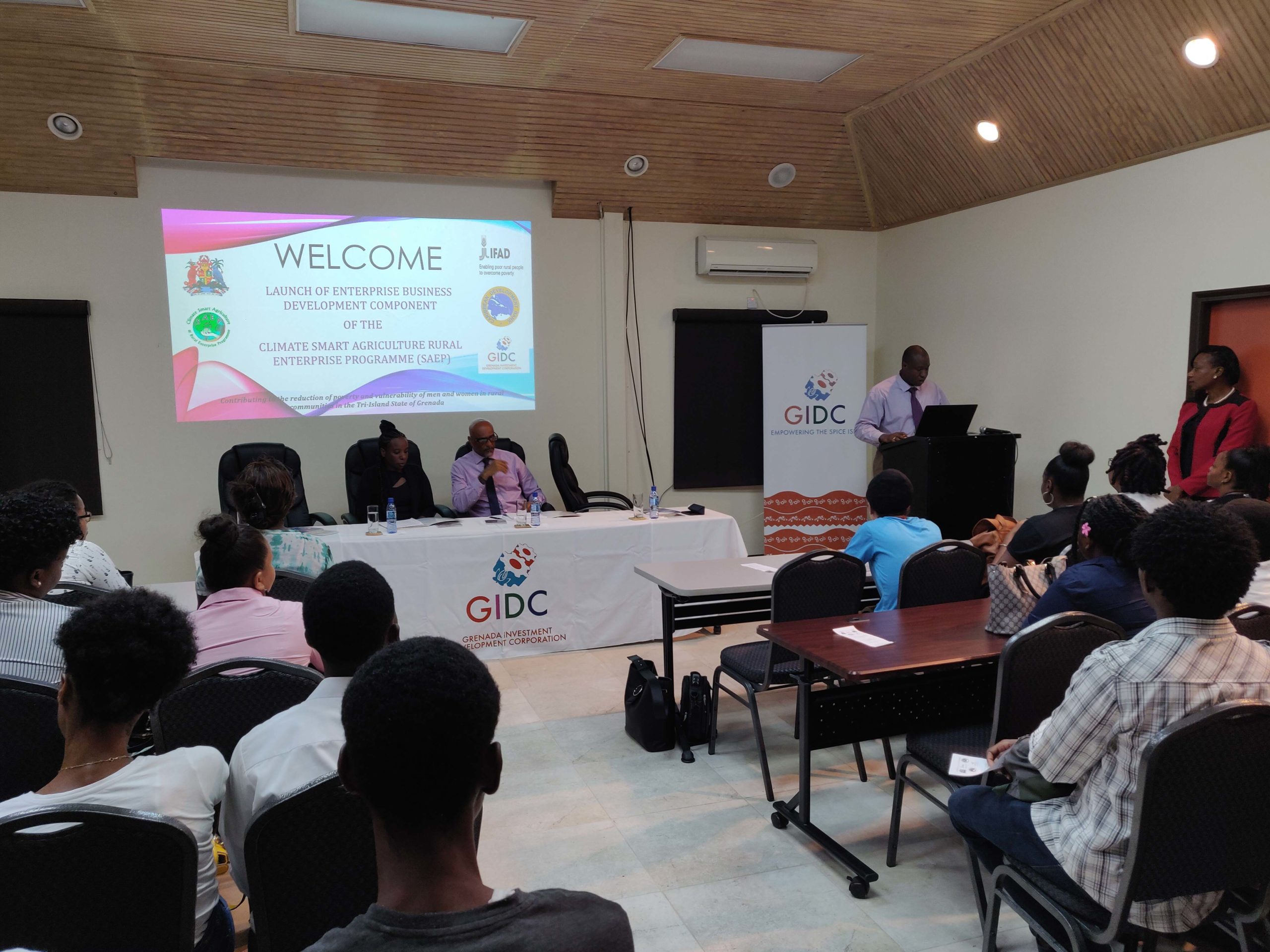 Aims at supporting ongoing and start-up businesses in rural areas through capacity building, technical services, grant financing, with focus on young people. In addition, young people will receive training and apprenticeship opportunities in the Vocational and Skills Training Programme which will be spearheaded by Service providers (NEWLO, TAMCC, GNTA)
Climate Smart Agriculture (CSA)
Aims to increase the sustainability of small farmers and fisher folks through the adaptation of CSA practices and the provision of Grant financing. It will also seek to raise the awareness of 1,000 school children (4H Club members) on the effects of Climate Change and the importance of Climate Smart Agriculture. In addition, the component will focus on the rehabilitation of farm and fishing access roads and drainage systems and the rehabilitation or construction of irrigation systems including climate resilience practices.
Focuses on the overall coordination of the activities of the implementing partners through financial management, technical support, procurement, monitoring and evaluation and general supervision.